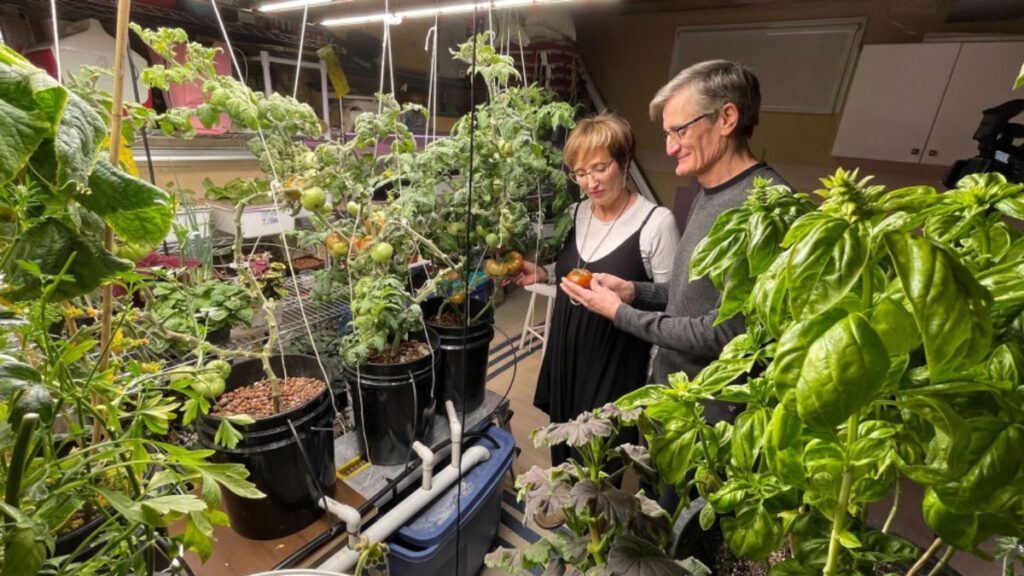 Edmonton couple turn basement into an underground garden
Home Indoor Gardening | Brittany Ekelund |
IMAGES: Amanda Anderson/CTV News
A local couple have found success in a new pastime that pays off in fresh produce.
After building a hydroponic garden in their basement, Angelo and Teresa Gentili have been keeping themselves, their family and friends eating fresh home-grown vegetables all year round.
"There's a difference when you pick it fresh," Angelo said.
"It's a totally different flavour, taste, texture – it's like a party in your mouth," Teresa added. "It's wonderful."
The couple's foray into indoor gardening started in 2020. Angelo was looking for a new hobby during the first wave of the COVID-19 pandemic and decided to try out hydroponics.
"There's a lot of information on how to build them on the internet," he said. "It's not hard, anybody can do it really. All you have to do is go on YouTube."
Angelo built his hydroponic towers out of PVC pipe and said each one cost around $200 for all of the components. Because they're vertical, they don't take up very much space, he said.
"You can grow these in a closet, if you have a spare closet or even in a corner of a spare room," Angelo added. "There are people that keep them right in the front living room and it becomes a conversation piece."
Once the start-up costs are paid, the seeds and nutrients are inexpensive and he said running the lights 12 to 14 hours a day has only added around $20 a month to his power bill.
"My wife Theresa, she loves kale, so we grow a lot of kale. She eats it every day," he said. "I used to have many hobbies that cost a lot more money and didn't do nothing for me."
Their operation includes arugula, swiss chard, lettuce, cucumber, tomatoes, parsley and basil, and this year they're trying out eggplant and microgreens as well.
Teresa, who grows many of the same vegetables in her outdoor garden, said she was surprised to see how much Angelo could grow in such a small space and shocked to see him growing anything at all.
"I thought I was dreaming, because he doesn't like touching plants, he doesn't work with plants, he doesn't like bugs," she explained.
"I do not like growing vegetables outside because there's dirt and there's bugs," Angelo said. "[There's] too many variables. I control everything here."
Because there are no bugs, Angelo really does have to control everything – including pollinating his flowering plants. It hasn't proved a problem for the couple, except for maybe a few too many flowers fruiting.
"As a matter of fact, we had better success in the basement with tomatoes than we did outside. We were getting a better yield," Angelo said.
"We don't run out and sometimes that's a problem," Teresa said, adding that family, friends and coworkers are often the recipients of their overflowing supply.
While they are growing enough fresh produce to eat and share, saving on groceries isn't the couple's main motivation and they both enjoy tending their underground greenhouse.
"I would say we're saving some money, but it's a hobby too. It's an enjoyment," Teresa said. "[The garden] becomes like a vortex. It can just suck you in, because it's so tranquil."
"You come down here, you're only going to be five minutes, next thing you know an hour went by because you're just playing and enjoying the plants and the feeling of them," Angelo said. "It's just great, that's what I enjoy."
Original Article: https://edmonton.ctvnews.ca/edmonton-couple-turn-basement-into-an-underground-garden-1.6236688
The post Home Indoor Gardening appeared first on GROZINE.